"I know that these days are a big hustle and bustle outside the incubator and that you have a very tight heart because I was too hurried and came earlier than you had planned. But don't worry, I will grow up and it won't be long before we can all be together. I know the world is in a big mess out there, but here things are very quiet. The 'nurse aunts' take care of me every day, with great affection, so that I can grow. "
Maria Lucena and Francisco Pereira Nunes know these words by heart. The couple never imagined that one day they would receive a letter in the mail written on behalf of their premature baby. Because they were infected with Covid-19, they couldn't see or touch him. And time has become truly relative.
Two seconds. As Maria Lucena, 34, adds details to the birth of her first child, she repeats this information in spaces: two seconds. After all, it was only during that very short period of time that she managed to catch a glimpse of her baby after giving birth. Hours, days, weeks of separation followed. "It was as if time did not pass. It seemed to me like ten years. It was horrible ", he confesses, in a waiting room near the Neonatology Service of Alfredo da Costa Maternity Hospital (MAC), in Lisbon, where he now spends his days.
The executive secretary learned that she was infected with Covid-19 at 28 weeks pregnant. Her husband, Francisco Pereira Nunes, 34, was infected during a trip to a ski resort in Switzerland in early March and passed the disease on to him. "We were not in time to prevent contagion", laments the bank employee, sitting next to him. But none of them infected anyone else.
Covid-19 was the first setback of a pregnancy that was going smoothly.
"Initially, I was very concerned about being infected with the pregnancy, but my obstetrician reassured me. He told me that there is no evidence that the disease is transmitted from the mother to the child during pregnancy ", he recalls. With still approximately three months to go, her expectation was to recover in time for the delivery to proceed with all normality. She remained asymptomatic, never had a fever or cough, just missed her taste and smell for a couple of days, as did her husband, who also did not inspire care. The evolution of the disease did not concern them. They took refuge calmly at home.
What Maria Lucena did not expect was that the baby would be born two weeks after the diagnosis of the infection. "No woman imagines having a child at seven months …", she says.
He was relaxed at home, carrying out the quarantine, when the waters broke. The obstetrician who accompanied her to a private hospital immediately referred her to MAC, who was on guard for the arrival of the first parturient with Covid-19. "I felt that the team was a little scared and very careful, but they were all impeccable", he underlines. Maria Lucena was hospitalized for two days in isolation until the baby was born.
When the time came, the delivery room seemed like a sci-fi scene: "I remember being covered with a transparent plastic and all the people around me looking like astronauts. I wouldn't be able to recognize any of them because I couldn't see your face, "he admits. The neonatologist who was prepared to receive the baby did not even enter the delivery room to reduce the possibility of contagion.
Manuel was born at 30 weeks and four days of gestation, by cesarean section, on March 27 of what, it is not difficult to guess, will be known as "the year of the pandemic". It weighed 1,530 kilograms. At the unforgettable two seconds in which the mother managed to catch a glimpse of her baby, emptiness was followed.
So close, so far
"It was very difficult. I felt very alone and isolated. I thought only of Manuel and what could happen to him. It was very distressing ", reveals Maria Lucena. "During the five days I was admitted to the maternity hospital, I did not receive a single visit and, after Manuel was born, the nurses were no longer with me. If I needed to, I had to call them, but I never did. I knew that people were afraid to be around me. "
While the mother remained in the maternity area reserved for patients with Covid-19, little Manuel was in the Neonatal Intensive Care Unit. During the first hours of life, the newborn would also be treated as if it were infected. He was taken to a negative pressure room (with his own ventilation system that does not allow the spread of contaminated air) and the health professionals who accompanied him were fully equipped with protective suits. The baby was tested at birth and also 48 hours later. The analyzes confirmed that he had not been infected with the new coronavirus.
Although the mother and son were separated by only one floor, the distance was insurmountable. Maria Lucena only saw her baby in the video calls that doctors and nurses made to her daily. It was through the telephone that he kept in touch with the outside world, including Francisco, who remained ill at home. But the most difficult thing was to return home alone.
"I just thought that Manuel needed me and that I couldn't be with him", she remembers, anguished. Francisco sought a rational way to deal with the fact that he did not yet know his son: "If he had not been born premature, he would still be in the mother's womb and we would not have known him either. Thinking like that helped me. "
Maria was unable to find any strategy that would help her to end the separation. "It was very bad … It was horrible …", he says, looking for the adjective that conveys the pain of not knowing his own son. The right word escapes him. "I cried a lot. I cried almost every day ", underlines the young mother.
Special Mail
"I hope that Mom and Dad at home are also at ease and, above all, that they are taking care of you so that we can get to know each other personally. I long to hear your voice, to be able to touch and smell you! " The words were written by the "aunt nurses", who left the letter in the name of Manuel in the mailbox on Easter Sunday, the 12th.
The head nurse of the Neonatology Service, Esmeralda Pereira, reveals that her team was heartbroken that Manelinho was the only baby without the possibility of receiving a visit from his parents at Easter. Then, they asked for authorization to have access to the address of the parents, who live close to the maternity hospital, and they started working. The letter says that the newborn is already breathing alone or that he is fed every three hours by a tube. The nurses added another gem to the correspondence: polaroid photographs of the baby. Nobody told them, but they have no doubt that they will have looked at them hundreds of times.
Parents do not skimp on the praise for the team that has been accompanying them in the maternity ward: "They are like second parents", they say.
"Manelinho was our first baby born to positive parents (for Covid-19), but the risk has been completely overcome. And it is evolving very well ", says, satisfied, the Neonatology coordinator of the Centro Hospitalar Universitário de Lisboa Central, which includes the Hospital Dona Estefânia and the Alfredo da Costa Maternity, Teresa Tomé. To the parents' surprise, the maternity team quickly adopted the diminutive Manelinho.
The neonatologist explains that mothers infected with the coronavirus can take babies home if they are able to keep their distance, respect all the rules of protection and a support caregiver is nearby. In this case, being Manuel premature, going home was out of the question and, being both positive for Covid-19, they could not go to the maternity hospital either. An absolutely atypical situation and, in Teresa Tomé's words, "violent".
"We feel the pain of these parents", guarantees the doctor. "The contact between the parents' skin and the baby's skin is very important but, in this case, the touch was completely unfeasible", he laments.
The end of the wait
Nineteen days. In all, parents were forced to wait 19 days before they could see their child live for the first time. Touch him. Give him lap.
After Manuel's birth, a single thought occupied their minds: cure the disease and run to motherhood. "We disinfected the house every day, cleaned handles, switches, furniture, computers, mobile phones… We made the washing beds several times a week… So many times, we became crazy about cleaning because we really wanted to eliminate the virus and negate it because of our son ", says Maria, without disguising the anxiety caused by this absence.
The first negative test for Covid-19 came on April 9. But two are needed to be considered recovered. They repeated on the 11th. Francisco again tested negative, but Maria's result was inconclusive. "I couldn't believe it," he says, recalling his despair. Only a negative analysis separated her from being with Manuel for the first time. Instead of going to the maternity hospital alone, Francisco decided to wait for Maria. "I thought we had to meet you both on the same day."
On Monday of last week, the 13th, Maria received the long-awaited result. I was free from Covid-19. The next day, the parents went to meet their son together.
"It was wonderful," shoots Francisco. "Unique", adds Maria. But also a little scary: "He's a lot smaller than I thought. Even a Nenuco is bigger than him ", compares the mother tenderly.
Now, they are preparing for a long season of recollection for three. They don't want to take the slightest risk. It worries them that their grandparents still don't know their grandson, but they will only schedule an appointment when the doctors consider it totally safe.
Taking into account his evolution, Manuel should leave the maternity ward within 15 days, when he reaches 35 weeks and is 1,800 kilograms. "I'm still not sure what it is to be a mother and I'm looking forward to finding out", assures Maria. One of the potential consequences of SARS-CoV-2 infection during pregnancy may be premature delivery, but there are still no certainties. "My pregnancy was very peaceful, there was nothing to predict an early birth. I want to believe that it had to be this way ", she says, resigned.
The conversation is suddenly interrupted, it is time to go change the diaper to Manelinho. Maria jumps out of her chair and hurries to her son. "I already give up for knowing that, now, the man of her life is our son. I gladly give you this privilege ", jokes the father, cheerfully.
While Maria is delighted with the baby in the neonatology ward, Francisco reveals that he tried to be a "point of balance and give some emotional stability" to the woman throughout this story. "The shock for a mother is much greater", she believes. "I realize that in a few days I may be the one to cry. I have not yet decompressed this anxiety. Maybe it will only disappear when he goes home ", predicts.
Next door, Maria holds Manuel in her arms, knowing that she is about to finish the countdown until the family is finally united. Next, the count will always be increasing.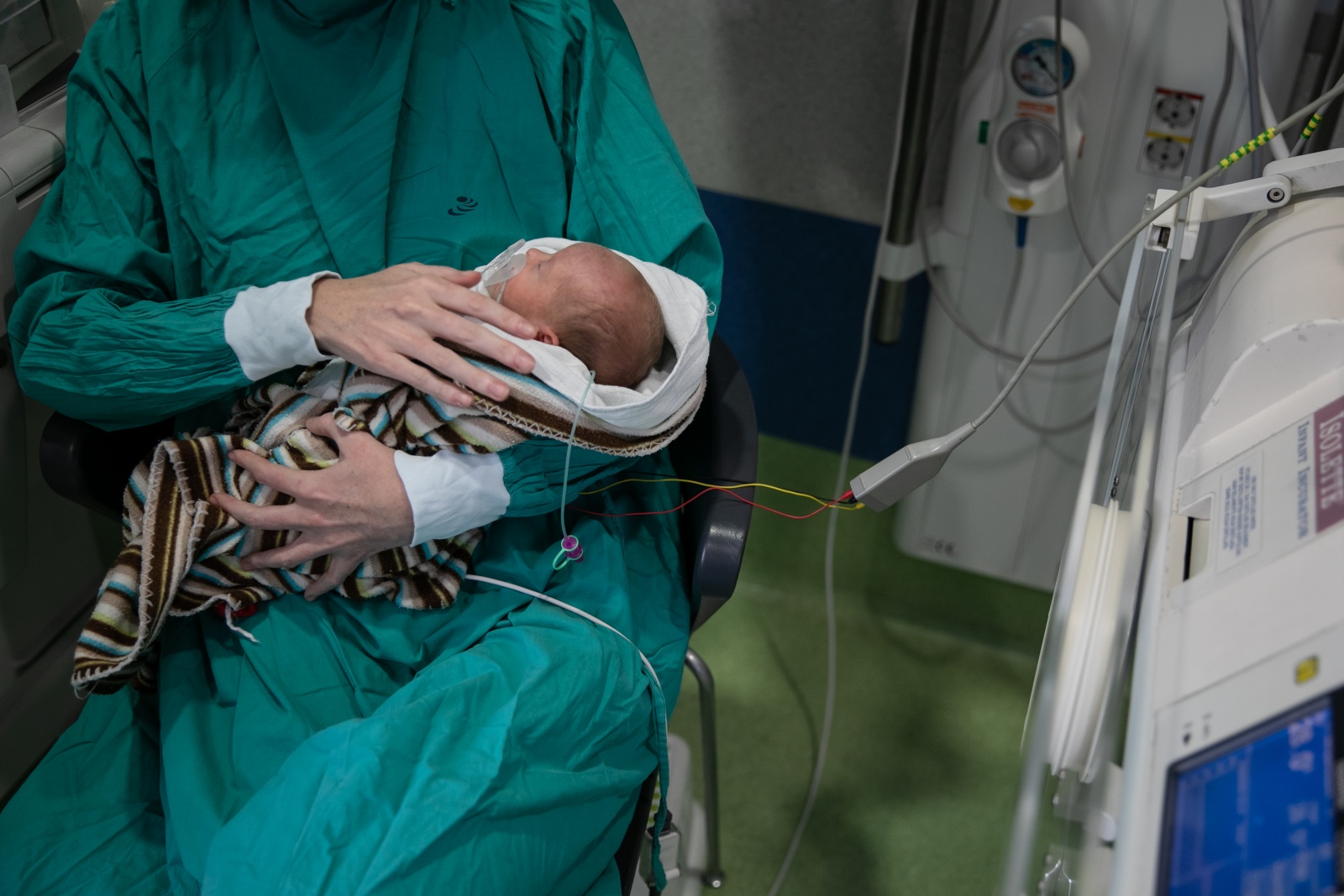 Maternal concerns
Doubts remain about the impact of Covid-19 during pregnancy. One possibility is that the infection increases the risk of premature birth
Are pregnant women more vulnerable to Covid-19?
So far, there is no scientific evidence to prove that pregnant women are more vulnerable to infection or more likely to develop serious illness. However, during pregnancy women experience immunological and physiological changes that can make them more susceptible to viral respiratory infections, such as Covid-19. It is therefore recommended to strengthen hand hygiene, maintain a minimum distance of one meter from other people and pay special attention to symptoms such as fever, cough or breathing difficulties.
Are women with Covid-19 at higher risk of complications during pregnancy?
High fever during the first trimester of pregnancy is known to increase the risk of birth defects in the baby – and this is one of the usual symptoms of the disease. Gestational problems have been observed in mothers infected with other coronaviruses, such as Severe Acute Respiratory Syndrome (SARS) or Middle East Respiratory Syndrome (MERS), but there is no information on possible adverse consequences caused by Covid-19.

Could the premature birth of the baby be one of the consequences of the infection?
Despite the limited number of reported pregnancies, some premature births have been reported from mothers infected with the disease. However, it is not yet certain that this complication is due to SARS-CoV-2. Other respiratory infections contracted during pregnancy, such as influenza or other coronaviruses, are associated with neonatal complications, such as prematurity or low birth weight.

Can the virus be transmitted to the baby during pregnancy?
There is still no certainty about the possibility of contagion of the fetus during pregnancy. To date, the virus has not been detected in amniotic fluid samples, umbilical cord blood or breast milk. In cases of mothers infected with other coronaviruses, such as SARS-CoV and MERS-CoV, the baby has not been infected during pregnancy. It is believed that transmission between mother and child can happen, essentially, after birth, through contaminated respiratory droplets.

Can babies born to mothers with Covid-19 develop other health problems?
There are no known risks of complications for babies born to infected mothers or even infected babies. If the association between the disease and premature birth or low birth weight is confirmed, both situations can cause long-term complications.

Can mothers infected with the coronavirus breastfeed?
Yes. The virus was not detected in breast milk. However, precautions should be taken, such as washing your hands before touching the baby, disinfecting all objects and surfaces where they touch and wearing a mask while breastfeeding.

Are pregnant healthcare professionals at increased risk when dealing with patients with Covid-19?
The Directorate-General for Health recommends that institutions limit the exposure of pregnant professionals to patients suspected or infected with the disease, especially during the provision of high-risk care that generates aerosols that can carry the virus.
Source: DGS, WHO
The content When parents test positive: the story of a family separated by Covid-19 appears first in Vision.